GMTK2020: Gundam Manual Tournament Koliseum
OBLITERATE YOUR OPPONENT… IF YOU CAN.
Your 2 tons murder machine has so many systems to manage at once that you will feel out of control. Are you ready for the challenge?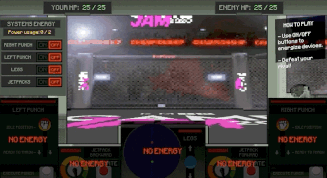 Pull levers to raise your arms, press buttons to throw your punches, enable and disable your legs, and don't forget triggering your jetpack to dodge!

But be warned! You can't have all systems enabled at once: Your energy supply has two charges that you can freely drive to enable two other systems.
BE STRATEGIC
Use your Jetpack to quickly engage or disengage your enemy and stay out of reach while you prepare your next assault.
BE QUICK
Enable and disable energy supplies to quickly enable more systems and punish your opponent.
BE OUT OF CONTROL
Don't forget to let us know what you like! We're actively looking for feedback that will help us shape this prototype into a fully fledged experience.
G.M.K.T. 2020 is about complex controls for simple actions.
OUTSOURCES:
MainMenu: https://freesound.org/people/Xythe/sounds/516912/
BattleMusic: https://freesound.org/people/Xythe/sounds/81392/